Artist Talk With Rich Gould
March 7th, 2023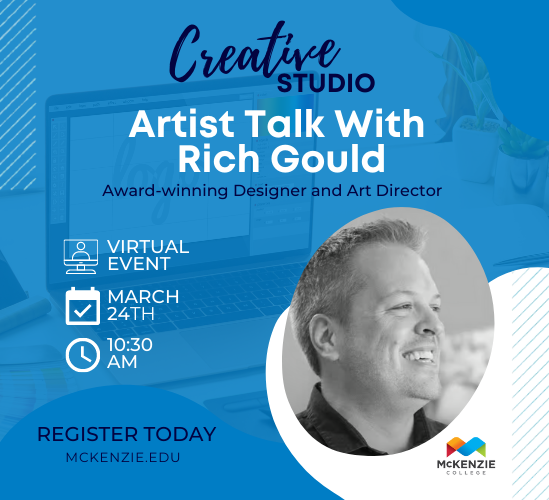 Rich Gould is an award-winning Designer and Art Director and former Co-founder of Razor Creative, a Moncton-based design, branding and marketing agency. In 2017, Razor was acquired by Brainworks Marketing. Rich now splits his time as Creative Director for the Pump House Brewery and freelance creative consultant and strategic designer.
Artist Talk with Rich Gould
Date: March 24th, 2023
Time: 10:30 am
Where: Virtual Event (link will be emailed the day before the event after registering)
Register: Fill out form below
HOW TO REGISTER:
Register for this event by filling out the form below. Please indicate which event you are interested in attending. If you are interested in attending multiple events, please submit a new form for each event. A link to the event will be sent to the email address you provide the day before the event.
ABOUT CREATIVE STUDIO:
McKenzie College is pleased to present, Creative Studio, virtual workshops and talks delivered by subject matter experts on a wide variety of topics relevant to creatives and artists.
These workshops are designed to help you develop your creative practice, build new skills, expand your business and produce an outstanding, diverse portfolio. During each session, our guest speakers will present new interesting topics, share skill-building techniques, and discuss the important lessons they have learned.
---
Please register for this event by filling out the form below.