September 14th, 2022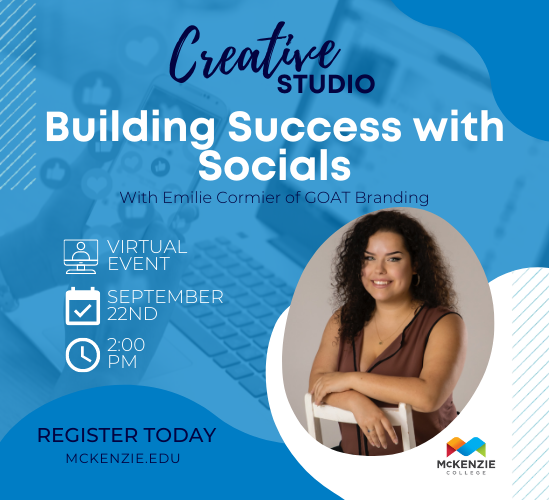 Social media is a fantastic tool for creatives to help them reach their goals. Whether you are a creative looking to build a professional online portfolio or you're looking to grow your online audience, this workshop will give you tips and tricks for helping you to achieve your professional goals through digital marketing.
Building Success with Socials
Date: September 22nd, 2022
Time: 2:00 pm
Where: Virtual Event (link will be emailed the day before the event)
Register: Fill out form below
Join McKenzie College in welcoming Emilie Cormier, artist, designer and owner of GOAT Branding. On September 22nd, 2022, Emilie will be sharing some of her best tips for leveraging social media to help you improve your online presence.
HOW TO REGISTER:
Register for this event by filling out the form below. Please indicate which event you are interested in attending. If you are interested in attending multiple events, please submit a new form for each event. A link to the event will be sent to the email address you provide the day before the event.
ABOUT CREATIVE STUDIO:
McKenzie College is pleased to present, Creative Studio: virtual workshops delivered by subject matter experts on a wide variety of topics relevant to creatives.
These workshops are designed to help you develop your creative practice, build new skills, expand your business and produce an outstanding, diverse portfolio. During each one-hour session, our guest speakers will present new interesting topics, share skill-building techniques, and discuss the important lessons they have learned.
---
Please register for this event by filling out the form below.