February 27th, 2023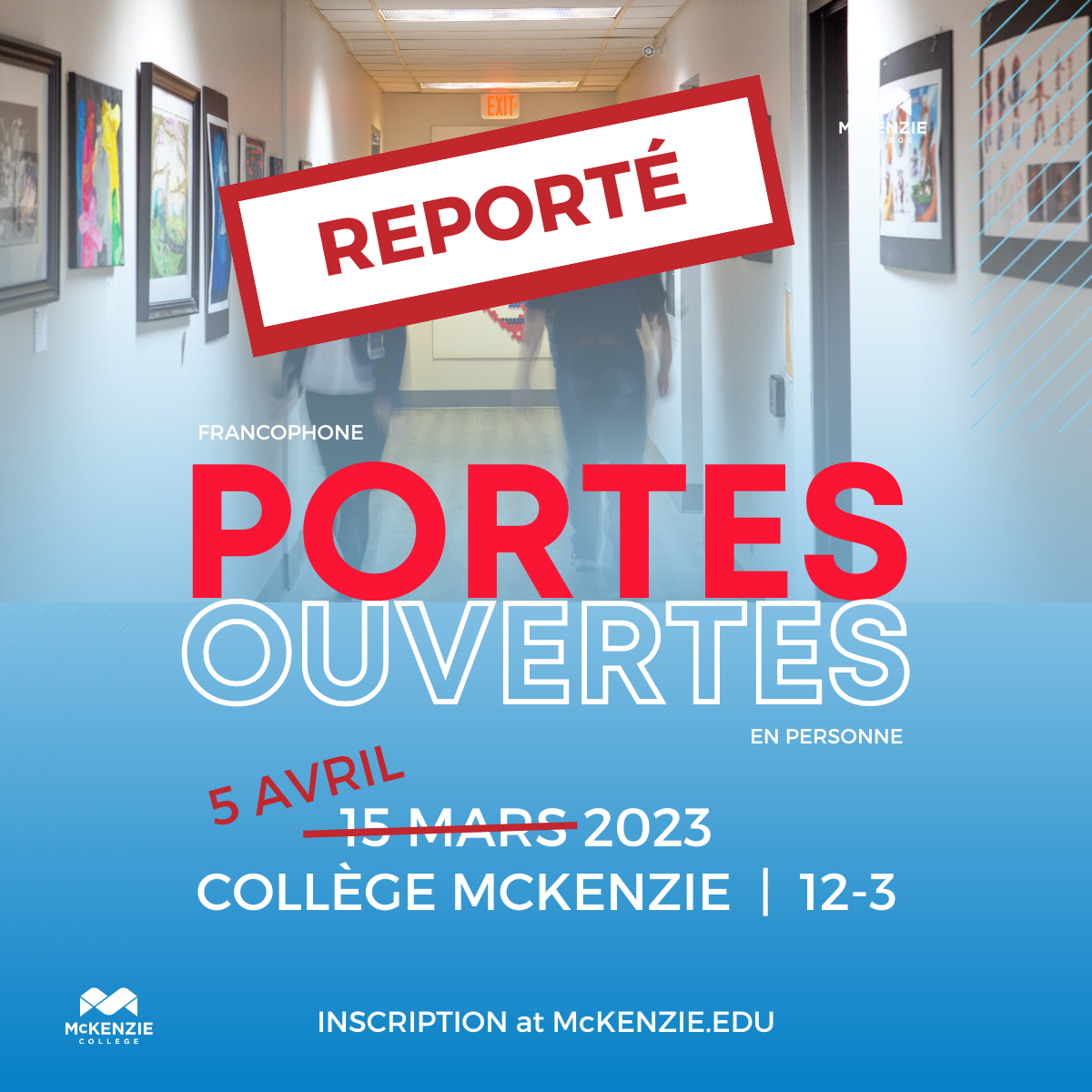 *FRANCOPHONE OPEN HOUSE POSTPONED DUE TO WEATHER
The safety of our McKenzie College community is our top priority. For this reason, we have decided to postpone tomorrow's Francophone Open House. The new date for this event is April 5th, 2023. We look forward to seeing you all then.

Please stay safe. 
You are invited to join McKenzie College's Francophone Open House event. During this event, attendees will have an opportunity to take guided tours of our facilities, these tours will be led in French and English. Meet our talented instructors and learning more about our unique programs. While you are here, view work created by our incredibly talented students in the McKenzie College Art Gallery. Don't forget to take in your work if you want to receive feedback on ways to improve your portfolio for your college application.
Francophone Open House
Date: March 15, 2023 ( April 5, 2023)*
Time: 12:00 pm-3:00 pm
Location: 100 Cameron St. Moncton, NB
Please register for the Francophone Open House below.

All prospective students in attendance will be entered into a draw for a $2000 Tuition Credit! *This opportunity is open to anyone who meets with an admissions advisor before April 1st.
---

*LES PORTES OUVERTES FRANCOPHONES SONT REPORTÉES EN RAISON DES CONDITIONS MÉTÉOROLOGIQUES
La sécurité de la communauté du McKenzie College est notre priorité absolue. Pour cette raison, nous avons décidé de reporter la journée portes ouvertes francophone de demain. La nouvelle date pour cet événement est le 5 avril 2023. Nous vous attendons avec impatience.

Nous vous prions de rester en sécurité.
Vous êtes invités à participer à l'événement Portes Ouvertes francophones du Collège McKenzie.
Au cours de cet événement, les participants auront l'occasion de faire des visites guidées de nos installations, ces visites seront menées en français et en anglais. Rencontrez nos talentueux instructeurs et apprenez-en davantage sur nos programmes uniques. Pendant que vous êtes ici, admirez les œuvres créées par nos étudiants incroyablement talentueux dans la galerie d'art du McKenzie College. N'oubliez pas d'apporter votre travail si vous voulez recevoir des commentaires sur les façons d'améliorer votre portfolio pour votre demande d'admission au collège.
Portes Ouvertes francophones
Date : Le 15 mars 2023 (5 avril, 2023)*
Heure : de 12 h à 15 h
Lieu : 100, rue Cameron, Moncton, NB
Tous les étudiants potentiels présents participeront au tirage d'un crédit pour frais de scolarité de 2 000 $ ! *Cette opportunité est ouverte à toute personne qui rencontre un conseiller aux admissions avant le 1er avril.
---
Please keep an eye on our McKenzie College Facebook for updates.