International Education Week
November 7th, 2022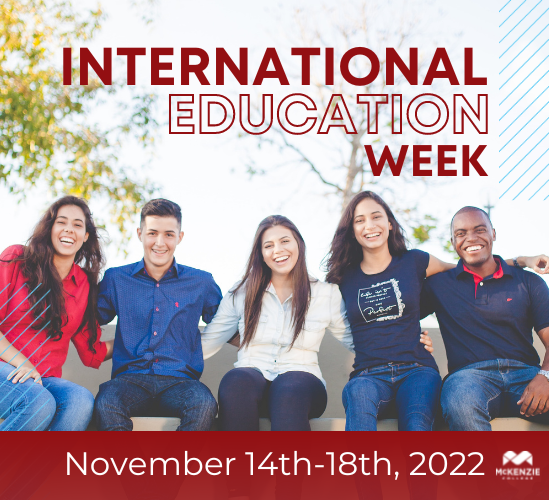 During International Education Week, McKenzie College will be celebrating diversity, culture, and international education. From November 14th-18th, the McKenzie College Language Centre along with our faculty and community members will be talking about all things global. The campus will be adorned with cultural relics and we will hold appreciation events throughout the week.
In addition to our on-campus events, we will be sharing the stories and cultures of our International Students through social media. Make sure you are following our McKenzie College socials to stay in the loop.
No registration is necessary.
International Education Week Schedule:
Monday, November 14th – 12:00pm "McKenzie College is Sweet on its International Students"
Enjoy desserts & hot chocolate in the main ESL classroom.
Tuesday, November 15th – 12:00pm Draw for $100 off your next English Language Course
Bring your lunch to the main ESL classroom & enter the draw.
Wednesday, November 16th – 2:00pm Artist Talk with artist Ji Hyang Ryu, A Local artist from South Korea (This virtual event will be streaming live from your classroom). Register here.
Thursday, November 17th – 12:00pm Potluck for all International Students
Bring a dish to share to the main ESL classroom.
Friday, November 18th – 10:30am Board Games for all International Students
Come play in the main ESL classroom.