The Secret to Creating Engaging Online Videos
February 8th, 2023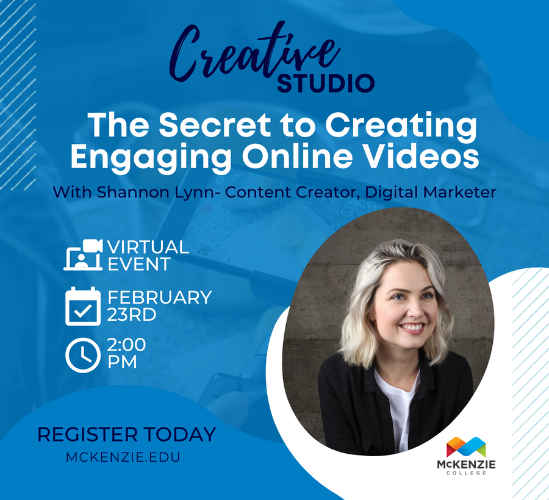 Do you find yourself scrolling Instagram and TikTok wondering how so many people have created such highly engaging videos? Whether you are ready to share your art, promote your business, or simply grow your following, learning how to create short, eye-catching videos may be exactly what you need to connect with your online audience on a deeper level. Join Shanon Lynn as she shares the secrets and techniques to keep in mind to help you create online videos that are sure to keep your audience's attention longer and coming back for more.
Shannon is a social media-obsessed, content creator and digital marketer who loves sharing what she has learned with others. She firmly believes that social media is a fun and easy tool that we can all use to help build personal and professional success. It's time to tap into your creativity and get on board with online video-making!
This particular workshop will focus on everything from gathering footage to editing videos. We will discuss the do's and don'ts on popular video-sharing platforms Instagram and TikTok, and explore ways to make your videos stand out from the crowd.
The Secret to Making Engaging Online Videos
Date: February 23rd, 2023
Time: 2:00 pm
Location: Virtual Event*
*After registration, a link to the event will be emailed the day before the event.
---
Please register for this event by filling out the form below.