The Education and Training Benefit Provides Veterans Financial Support for Further Education
May 9th, 2023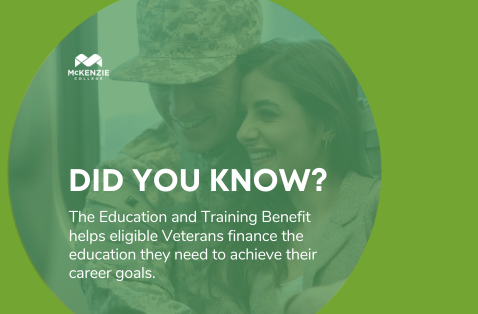 McKenzie College is a post-secondary institution that offers a wide range of programs in various fields such as graphic design, web development, digital marketing, and animation. The college is committed to providing an inclusive environment for all students, including veterans. At McKenzie College, veterans are welcomed with open arms, and the government funded Education and Training Benefit can help support them in their academic journey.
The Education and Training Benefit (ETB) program, offered by the Canadian government provides financial assistance to eligible veterans who want to pursue post-secondary education or training. Veterans can receive funding for tuition, books, and living expenses. McKenzie College is a recognized institution under the ETB program, which means that veterans who enroll in one of the college's programs can apply for this benefit. If you would like to learn more about this benefit, visit www.veterans.gc.ca.
McKenzie College is committed to creating a welcoming and supportive environment for veterans and also recognizes the unique skills and experiences that veterans bring to the classroom. The college values diversity and believes that veterans can contribute to a rich and dynamic learning environment. Veterans are encouraged to share their perspectives and experiences in class discussions and group projects.
Learn more about McKenzie College Programs and other funding options available. If you have any questions, do not hesitate to contact us by email or phone at 506-384-6460.