May 10th, 2023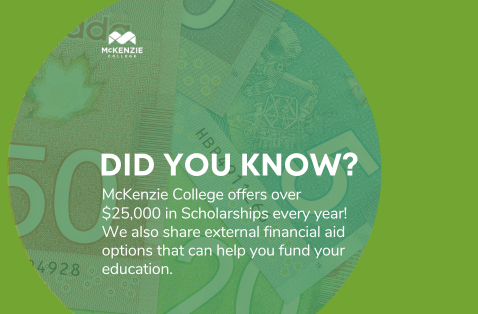 At McKenzie College, we believe that everyone should have the opportunity to pursue their dream career, regardless of their financial situation. We understand that the cost of education can be a barrier for some students, which is why we are dedicated to helping students overcome this obstacle. We offer a long list of McKenzie College Scholarships that are available to our students, and we have also compiled a list of external financial aid options to help students find additional funding.
We believe that education is a powerful tool that can help individuals achieve their goals and make a positive impact on their communities. Our mission is to empower our students by providing them with the knowledge and skills they need to succeed in their chosen fields. The first step is finical assistance, should they require it.
We understand that navigating the world of scholarships and bursaries can be overwhelming, which is why we are here to help. We encourage our students to take their time reviewing the available options below, as application requirements and deadlines can vary.
Here are some external financial aid options for you to explore:
Education Planning and Student Aid
Canada Student Grants and Loans
Canada Student Grant for Full Time Students with Dependants
National Student Loan Service Center – (YouTube Page)
New Brunswick Student Financial Services
The Canadian Information Centre for International Credentials
---
GRANTS
Grant for Students with Permanent Disabilities
---
STUDENT LINES OF CREDIT
As a student, you may qualify for a student line of credit to make your education more affordable.
You may also check with your local bank/credit union (they may offer a similar program)
CIBC – Education Line of Credit
Bank of Montreal – Student Line of Credit
TD Canada Trust – Student Line of Credit
Royal Bank of Canada – Student Line of Credit
Desjardins Credit Union – Student Line of Credit
Scotiabank – Personal Line of Credit for Students
UNI Financial Cooperation – Student Line of Credit
---
OTHER SCHOLARSHIPS AVAILABLE
These scholarships are not endorsed by McKenzie College however, we have found them and wanted to share the information with you.
* Please read dates and requirements carefully.
The RBC Future Launch Scholarship
The Elizabeth Greenshields Foundation
EnergyRates.Ca College Scholarship
Canada Post Aboriginal Education Incentive Awards
The New Brunswick Federation of Labour Awards
Parents Need to Know Scholarship
Haywood | Hunt & Associates Scholarship
MADD Canada Youth Bursary Program $2000.00
NEADS National Student Awards Program (National Educational Association of Disabled Students)
New Brunswick Arts Scholarships Program
Soroptimist International Women's Opportunity Awards
Summer Language Bursary Program
Business & Professional Women of Greater Moncton
The Applied Arts Magazine Scholarship Awards & https://www.appliedartsmag.com/scholarship/
Scholarship Michael Giannulis Grant
---
INDIGENOUS SCHOLARSHIPS
---
If you need any assistance reviewing these external financial aid options, we can set up a finance appointment for you.  Please call us at (506) 384-6460 x105.