May 31st, 2023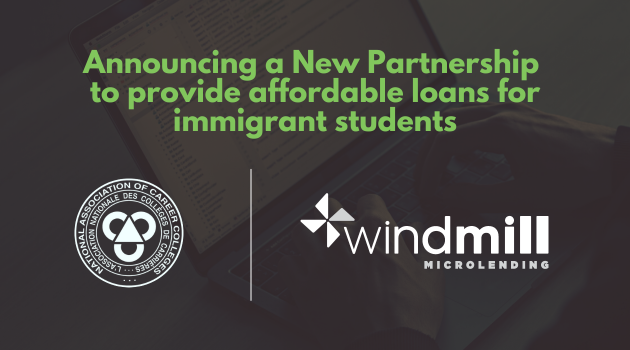 Introduction:
At McKenzie College, we believe in providing equal opportunities for all individuals to pursue their dreams and achieve their career goals. We understand that financial constraints can often hinder the progress of newcomers and immigrants, especially when their credentials from their home countries go unrecognized. However, we are excited to announce a groundbreaking partnership between the National Association of Career Colleges and Windmill Microlending, a Canadian charity offering low-interest loans to immigrants and refugees. This collaboration opens up new doors for aspiring students, ensuring that financial limitations no longer stand in the way of their career progression.
Access to Financial Aid:
With the partnership between the National Association of Career Colleges and Windmill Microlending, prospective career college students who meet Windmill's eligibility requirements can now gain access to financial aid in the form of a low-interest loan, up to $15,000. This funding can be utilized to cover the costs of education, training, certification, designation, accreditation, and professional development courses. It goes beyond tuition fees, extending to expenses such as textbooks, equipment, cost of living, and transportation, providing comprehensive support for students throughout their learning journey.
Empowering Newcomers and Immigrants:
For newcomers and immigrants who often find themselves working in survival jobs to make ends meet, this partnership offers a transformative opportunity. By investing in their education and acquiring new career skills at McKenzie College, individuals can break free from the limitations of unrecognized credentials and elevate their professional prospects. This collaboration is a testament to our commitment to fostering diversity, inclusivity, and upward mobility in the educational landscape.
Windmill Microlending's Impact:
Windmill Microlending has been dedicated to supporting newcomers and immigrants across Canada. Their national organization has worked with various learning institutions, including career colleges, to ensure that financial aid is accessible to those who need it most. By providing low-interest loans, Windmill Microlending empowers individuals to bridge the financial gap and pursue their educational aspirations, regardless of their background or financial circumstances.
How to Apply:
To take advantage of this incredible opportunity, interested students should review Windmill Microlending's loan eligibility requirements. These guidelines will provide valuable insights into the application process, enabling individuals to determine their eligibility and understand the necessary steps to secure financial aid. At McKenzie College, we are here to support our students throughout this process, providing guidance and assistance to ensure a smooth application experience.
Conclusion:
At McKenzie College, we believe that education should be a transformative experience accessible to everyone, regardless of their financial circumstances. The partnership between the National Association of Career Colleges and Windmill Microlending opens up new possibilities for newcomers and immigrants, empowering them to pursue their dreams and achieve career success. By availing themselves of low-interest loans, individuals can overcome financial barriers and transform their lives through education. We are proud to be part of this initiative, and we invite all aspiring students to explore this opportunity, kickstart their career journey, and unlock their full potential at McKenzie College.