July 4th - August 25th, 2023


Join us for an unforgettable summer of creativity, self-expression, and fun. McKenzie College Summer Art Camps!

Art Camps are back after a 3-year hiatus, offering a fun-filled summer experience for children ages 8-14. With each camp running weekly during July & August. If you child is over the age of 14 and loves art, do not fret. This year are also offering a Pre-College Art Portfolio Development Summer Intensive for ages 15-18.

Art teaches children to think outside the box, to express themselves in new and exciting ways, and to appreciate the beauty in the world around them. Our experienced instructors are passionate about art and love sharing their knowledge and skills with young learners.

By participating in our camps, children will have the opportunity to explore new techniques and art mediums, including drawing, painting, pastel, sculpture, and more. Each week, we'll introduce new projects that will expose them to famous works of art and help them develop their own personal style. We'll also provide a supportive and inclusive environment where children can feel free to express themselves without fear of judgment or criticism.

At McKenzie College Summer Art Camps, children will learn problem-solving, critical thinking, and teamwork skills that will benefit them for years to come – and of course, let's not forget about the fun! Our art camps are a great way for kids to socialize, make new friends, and have a blast doing something they love. All of the projects created during the week will be shown at a live art exhibit each Friday where children can proudly display their work and show their friends and family what they have learned.

So why not give your child the gift of creativity this summer? You can sign up for multiple weeks or just one, depending on your schedule. We're confident that your child will have a blast and come home with amazing works of art to show off to family and friends. Join us at McKenzie College Art Camps and let the creativity begin!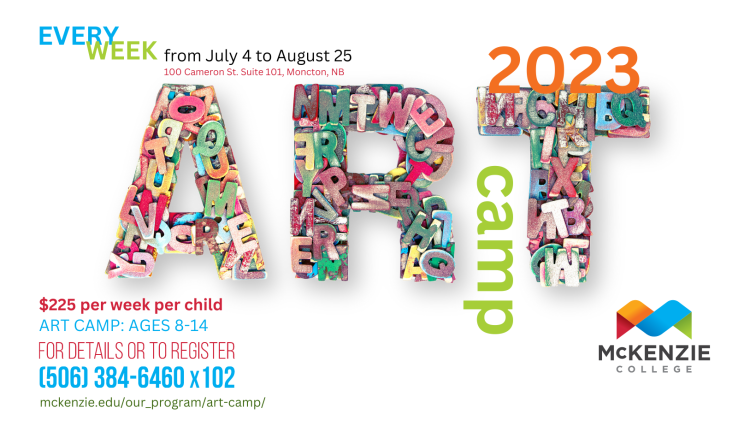 McKenzie College Summer Art Camps
When: July 4th – August 25th, 2023
Where: McKenzie College
Address: 100 Cameron Street, Moncton, New Brunswick
Cost: $225/ week
Facebook: https://www.facebook.com/mckenziecollegemoncton/