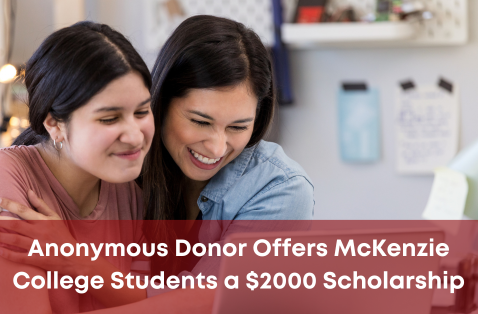 Anonymous Donor Offers Blue Jean Scholarship- a $2000 Scholarship For One Deserving McKenzie College Student
04/11/2023
McKenzie College is thrilled to announce a generous donation from an anonymous donor who has offered to provide one second-year student with a $2000 scholarship called the Blue Jean Scholarship. The scholarship will be based on an artwork submission, and the donor will select the recipient based on the quality of the submitted artwork. This opportunity is available exclusively to second-year students, and the funds must be used toward tuition.
To be considered for the bursary, students must submit one piece of artwork, which will be evaluated by the donor. The cheque for the full amount will be made payable to McKenzie College for September 2023 tuition. The submission date will be determined by Dale Ritchie, who will take into consideration the 2023 graduation date.
The donor has expressed a desire to maintain the anonymity of their donation and has committed to not making or distributing any copies of student submissions. This bursary presents an excellent opportunity for second-year students to reduce their financial burden and focus on their studies.
McKenzie College would like to express its gratitude to the anonymous donor for their generosity and commitment to supporting the education of our students. We encourage all eligible students to take advantage of this unique opportunity and submit their best artwork for consideration.
Blue Jean Scholarship Details:
Open to all second year students
Donor will make selection of recipient based on art work provided
Submission of one piece of art:
Original piece (to be returned), or
E-mailed photo of piece (h.b.j@rogers.com)
Scholarship is to be used toward tuition
Cheque for the full amount shall be made payable to McKenzie College for September 2023 tuition
Submission date to be determined by Dale Ritchie in consideration
The donor shall not make or distribute any copies of student submissions
Email us if you have any questions regarding the Blue Jean Scholarship.
Be sure to follow up on Facebook and Instagram to see more announcements like this and to discover the lucky recipient of this Scholarship.