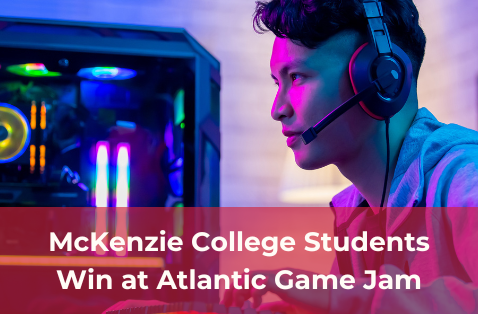 McKenzie College Students Take Top Prizes at Atlantic Game Jam
03/16/2022
McKenzie College is celebrating an announcement that 4 of their students have won top placements in the 2022 annual Atlantic Game Jam. This is a 48 hours game making marathon where participants collaborate together and make digital games. Organized by Ubisoft & ShiftKey Labs, Atlantic Game Jam's goal is to bring people together to collaborate and create games regardless of skill level.
With approximately 80 participants, individuals are divided into teams of 4-5 where they must work together, under a tight deadline, to create a single game from concept to execution. The winners are chosen by jury and each game is evaluated on a range of criteria such as overall impression, quality, innovation, art direction and sound.
The top awarded games were led by Moncton based artists and McKenzie College Video Game Art students, Payton Norris, Michelle Gaudet, Helena Sugiarto, who won first, second and third place respectively. Also celebrating a second-place win for Art Direction is TV and Game Animation student, Oliver Turner.
"I couldn't be prouder of my students whose teams took 4 of the top 5 spots in the Atlantic Game Jam!" says Mike Roy, Program Lead for McKenzie College's, Video Game Art, and TV and Game programs. "It's not easy to jump into a new team and produce the art assets needed for a new game concept, especially with such a short turnaround. Not only does it show their ability to produce great game art, but perhaps more importantly, it demonstrates their ability to prioritize and produce in a timely fashion while communicating in a concise and effective way. These are the very skills which will serve them well in their future careers in games and animation."
Prize Recipients:
Artist for First Place Game Winner: Payton Norris, Video Game Art Student
Artist for Second Place Game Winner: Michelle Gaudet, Video Game Art Student
Artist for Third Place Game Winner: Helena Sugiarto, Video Game Art Student
Art Direction Second Place Winner: Oliver Turner, TV & Game Animation Student