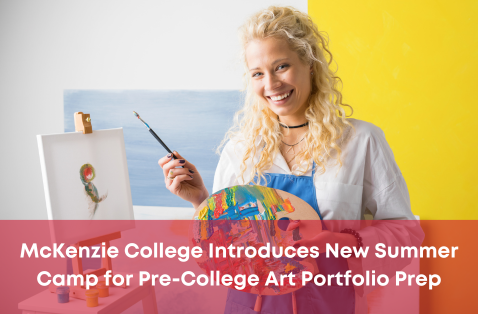 McKenzie College Introduces A New Summer Camp for Students Preparing Pre-College Art Portfolios
05/03/2023
Attention young artists! McKenzie College is thrilled to announce a new portfolio building summer camp-the first of its kind! The Pre-College Art Portfolio Development Summer Intensive is specifically designed for aspiring artists ages 15-18 who are interested in pursuing a career in the arts and need to build a competitive portfolio to get into the art school of their dreams.
During each week-long summer intensive, students will work closely with experienced faculty to develop and refine their artistic skills across a range of mediums, including drawing, painting, sculpture, and digital media. In addition, students will receive personalized instruction and feedback on their portfolio development, allowing them to create a comprehensive and professional-quality portfolio that showcases their unique talents and abilities.
This portfolio building summer camp is a fantastic opportunity for students to gain real-world experience in the arts, connect with other aspiring artists, and receive the guidance and support they need to succeed in their artistic pursuits. Plus, with Moncton as our backdrop, students will have the opportunity to explore the vibrant arts community and all that the city has to offer.
Don't miss out on this incredible opportunity to jump-start your artistic career! Apply now for our Pre-College Art Portfolio Development Summer Intensive at McKenzie College.
McKenzie College also offers Summer Camps for students ages 8-14. You can learn more about these Summer Art Camps here.
Stay up to date with what else is happening at McKenzie College by following us on Facebook and Instagram!